Change in the law concerning foreign landowners in Turkey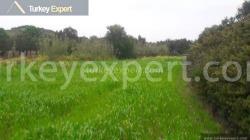 Do you own or planning to buy land in Turkey? Please keep reading as this can be very important.
The title deeds of this kind of property have a blue frame.
The General Directorate of Land Registry and Cadastre (Tapu ve Kadastro Genel Müdürlüğü) is explaining the regulations for foreign owners or foreign companies owning building land or agricultural land in Turkey on their website www.tkgm.gov.tr as follows:
In accordance with the Article 35 of the Land Registry Law No. 2644, amended by Law No. 6302, which entered into force on 18 May 2012, the condition of reciprocity for foreigners who wish to buy property in Turkey is abolished. Information on countries whose citizens can buy property and estate in Turkey can be provided from the Turkish Embassies/Consulates abroad and the General Directorate for Land Registry and Cadaster. Persons with foreign nationality can buy any kind of property (house, business place, land, and field) within the legal restrictions. Persons with foreign nationality who buy property without construction (land, field) have to submit the project which they will construct on the property to the relevant Ministry within 2 years.

Attention: What happens if the foreign company or the foreign person does not submit the project within 2 years or when construction did not start within this time? A project must be filed within 2 years with the relevant Ministry. Otherwise the owner will be urged to sell the land within one year, and if the owner himself does not sell the property, it will be sold through a public auction and the owner will be refunded after deduction of all costs and fees.

Published on 2019-10-25
Updated on 2019-10-25