Food culture in Turkey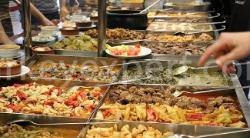 Food culture in Turkey
Turkey's geographical position and the long history of its lands resulted in it to be a meeting point of various food cultures, making food tasting in Turkey a unique and unforgettable experience. This is why a question like "What is a typical Turkish food?" is difficult to answer. Let's start with an overview of different types of cuisines that are in Turkey.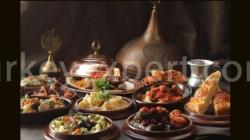 Istanbul: Also known as the Ottoman cuisine or the Palace cuisine, this cuisine is known as one of the richest in the world. It has been influenced mainly by the Balkan, the Anatolian, the Syrian and the Caucasian cuisines. Unfortunately, most of the recipes didn't survive, as they were kept as secrets by the cooks. So what we know today is only a small selection. It is known that especially meat and desserts were dominating. Starters were not typical, and tomatoes were also introduced much later so that the Ottoman cuisine doesn't use tomatoes or tomato marks. Some impressive food that still can be found in restaurants are:

Yumurta-yı hümayun (eggs with onions and pastirma – typical Turkish bacon), Mahmudiye (chicken casserole flavored with almond, apricot, raisin, honey, cinnamon, and lemon juice), Mutancana (lamb stew with apricot, shallots, red grapes, honey, and almonds), Kavun Dolması (melon stuffed with lamb, rice, spices, almonds, pistachios, and currants), Düğün çorbası (made of beef chuck, herbs, and yogurt), Acem pilavı (rice with beef, almonds and pistachios), Akike (mutton casserole with tail fat, yogurt, cinnamon, spices, and mastic), Süt Kebabı (lamb and mutton in milk), Beyrani (long-cooked lamb meat with spices), Mıhlama (long-cooked minced meat with eggs and herbs), Kırma Tavuk Kebabı (special herbed chicken), Fodula (stuffed bread with beef)
Desserts were always essential in Ottoman cuisine. It is known that at a festive event in the 16th Century, there had been 53 sorts of sweets for the guests. Still popular desserts are:
Keşkül-ü fukara (a milk pudding with almonds), Revani (semolina cake with orange flower water or rose water), Zerde (pudding with saffron and rose water), Tavukgöğsü (chicken breast pudding), Sütlaç (rice pudding), Kazandibi (burned milk pudding), Saray helvası (dry, slightly sweet halva with pistachios), Kadayıf (kadayif dough with syrup and pistachios), Vezir parmağı (semolina, milk, beaten, caster sugar, almond essence, butter, rose water, water, and lemon juice), Hanım Göbeği (fried semolina balls with lemon syrup)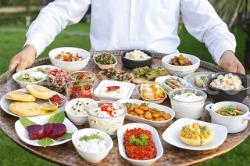 Izmir and the Aegean Coast: The Izmir and the coastal cuisine have a lot common with Greek cuisine. Most names can be found in both languages, like dolmadakia (GR) – dolma (TR), keftedes (GR) – Kofte (TR), moussaka (GR) – Musakka (TR), etc., and they are very similar.
Typical for the Aegean cuisine is to start with a variety of cold dishes, called Meze. These are small dishes with yogurt, fish, eggplant, cauliflower, and much more. In a typical restaurant, you wouldn't choose your meze from a menu. Either the waiter would bring a big tray with a variety of mezes to your table, which you can directly pick, or you would go to the glass fridge with the waiter and tell him there.
Vegetables are also essential in Aegean cuisine. There are many recipes with vegetables cooked with olive oil that can be consumed cold or warm.
Fish is another essential food for the Aegean. Especially grilled fish are common. It is typical to choose your fish, not from the card, but going to the glass fridge with the waiter. He would weigh the fish there, tell you the price, and ask you how they should prepare it.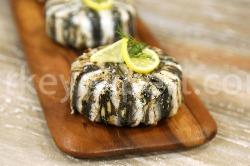 Black Sea area: Although the Black Sea cuisine does not only consist of fish, anchovy is typical for this area. You should try the Hamsili pilav (anchovy rice), the Hamsili ekmek (anchovy bread), the Hamsi tava (anchovy from the pan), Hamsi bugulama (anchovy stew), Hamsi koftesi (kofte, but with anchovy), and the Hamsi tatlisi (anchovy dessert with anchovy, dough, oranges, pistachio, and syrup).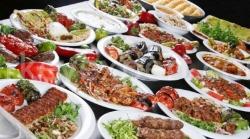 Coming to the soul of the Turkish cuisine: Gaziantep. Gaziantep is located in the South-East of Turkey and can be reached by a 1h 45m flight from Istanbul. It has its unique cuisine influenced by the years of history of the area and is a favorite location by gourmets. Many dishes not to miss in Turkish restaurants meanwhile originate from here. Due to its gastronomical importance, Gaziantep has been added to the UNESCO's Creative Cities Network in 2004.
Especially in Istanbul and in Izmir, you will find many fusion restaurants that are combining different food cultures, making your experience even more intense.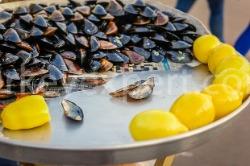 Street food in Turkey
Besides these varied cuisines, there is a excellent Street food culture in TurkeyDoner – Doner is meanwhile everywhere and is known by everyone around the world. In Turkey, you can easily find a "donerci" when you're hungry, without searching too long.
Kumru – This is a typical street food from Izmir. It is a grilled sandwich with spicy sausages, sausages, pickles, tomatoes, and grilled cheese.
Boyoz – Another typical Izmir street food. Boyoz is a pastry with tahini and is very popular.
Kumpir – These are baked potatoes with butter, cheese, and a variety of toppings
Balik-Ekmek – A typical street food from Istanbul. Balik-ekmek means fish and bread, and this is also what it is. You can find many small tents on the coast or fisher boats, selling grilled or fried fish sandwiches. Usually, there is a garlic sauce with it.
Simit – This is a circular bread with sesame seeds. The simit in Istanbul tastes slightly different than the simit in Izmir. In Izmir, they call simit also gevrek.
Midye dolma – These are rice-stuffed Mussels and can be found in restaurants but also on streets in trays. You would start eating, and the seller would count the shells at the end to tell you the price. Don't leave Turkey without having tried midye dolma.
Published on 2019-10-25
Updated on 2019-10-25