Kagithane is home to the 17th tallest building in Europe. Its central location, very close to the heart of Istanbul, makes Kagithane an excellent choice by the builders and the investors.
Click here to read more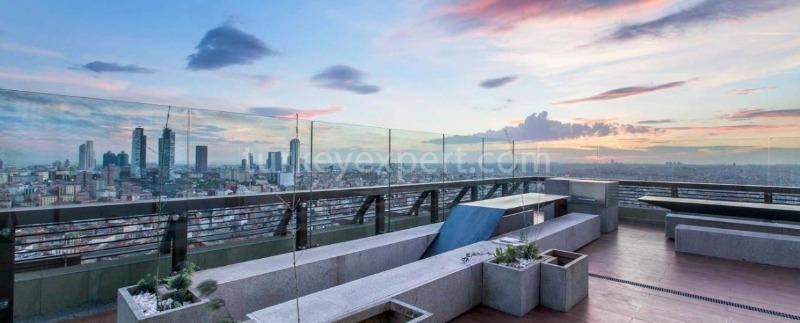 The Kagithane district is considered one of the most elegant and lively areas of Istanbul. The Municipality of Kagithane focused on developing the region and increasing the value of real estate day after day by establishing big projects that drew the interest of large investors.
Located on the European side of Istanbul, situated between Levent, Caglayan, Okmeydani, and neighboring Sariyer, Besiktas, Sisli, Beyoglu, and Eyupsultan, Kagithane is a developing district with plenty of residential buildings, commercial spots, and great transportation axes. Recently, it has been a rising real estate hotspot of Istanbul, thanks to its strategic location. It was one of the spots for entertainment during the Ottoman period.

Kagithane is named after the old paper mills located in the European Side of Istanbul. Today, it is home to many business centers, shopping malls, and hospitals. With its central location and many urbanization projects, it is an increasingly valuable district.

Kagithane, which has an office, residence, and shopping mall project in almost every neighborhood, is in a very strategic position in terms of transportation. It is very close to essential networks of Istanbul, such as the metro network, tunnels, 3rd bridge, 3rd Airport, and the Grand Istanbul Tunnel.

Taking advantage of its proximity to the favorite and prestigious districts of the European Side, the 17th highest building in Europe with 261 antenna height is also located in Kagithane. Sapphire Istanbul has a total of 66 floors, of which ten are below the ground. Sapphire Istanbul functions partly as a shopping mall and partly residential one.
Kagithane has some important must-see spots. For instance, the Sadabad Stage of the Kagithane Municipality Cultural Center, where so many shows and theater performances are performed. Also, there is Sadabad Mosque, situated near the Kagithane Stream. Furthermore, Hasbahce Recreation Area is one of the social areas with a lovely garden, pleasant atmosphere, children's parks, picnic areas, walking, and jogging paths.

Properties for sale in Istanbul Kagithane