Looking for a land in Turkey?
As property prices increase, the lands are becoming more and more valuable. The market for building land in Turkey has never been more dynamic. We are not able to upload all the last minute and up to date information here on this section due to the nature of the market.
There're many "hidden" portfolios in Turkey. So the land is not advertised anywhere, but in reality, we know that the owner is actually prepared to sell. The landowners like to be discreet about it. As selling land in Turkey, will most of the cases imply that the financial situation of the person is not too well. Please send us your inquiry message about your search for land in Turkey, we'll investigate currently available possibilities, and we'll let you know as soon as possible.
We offer professional construction services in Turkey
We have a professional team to assist you with construction. We're able to fully assist our investors with activities such as locating the suitable land to build on, project planning, design & architects, all necessary paperwork (such as establishing a limited company), and the construction. Alternatively, you may prefer to become an investor-partner on an existing real estate project. Please get in touch with us to find out more about the possibilities.
The 970 sqm land plot is located in Antalya Belek, close to villas and houses and 2.4 km from the sea, suitable for a residence permit.

This building land is situated in a low-density area of Kusadasi with an easy access to the amenities and the beach.

This 800 m2 building land has a 50% building permit, is suitable to plan multiple units, advantageous location near the sea in Beylikduzu.

This building land in Yalova is suitable for building 6 apartments, or 2 large villas, or an apart-hotel. Opportunity for property investors.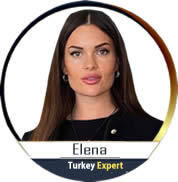 We can call you back in a few minutes!
Please enter your phone number below, including the country code.
The land has a total area of 350 m2 with permission for villa construction.

Land with a construction permit for sale in Arnavutkoy, Istanbul.

This building land is situated in a small village of Kusadasi, 10 km from Kusadasi town.
Kuşadası Center, Kusadasi

You can build your dream villa in Istanbul close to the Marmara Sea, while you can sell the other villa and earn your profit at the same time.

Good size land in Turkey on the Aegean coast offers high investment potential.

Don't miss out!
We're adding new properties continuously.
We'd like to keep you posted.