Fethiye and the surrounding towns like Gocek, Kalkan and Kas have a long history dating back to ancient times. They show a mix of traditional and modern and are sought-after destinations for a second home. Buying a home in Fethiye, you can have the tranquility, the excellent air quality, and the beautiful views towards the sea at the same time.
On this page we're presenting only some of our Fethiye properties. We'll be glad to assist you further for your search for a property in Fethiye.
Property for sale in Fethiye
New build villa for sale in Fethiye surrounded with nature.

5+1 two-story villa on an elevated position benefits from the great mountain views and is conveniently located 10 minutes from local amenities.

Tastefully designed 4+1 villa features an exquisite garden, a private pool, and spacious rooms in soothing colors.

The spacious 4+1 villa with a majestic mountain view is only 10 minutes from the stunning beach of Oludeniz.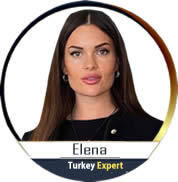 We can call you back in a few minutes!
Please enter your phone number below, including the country code.
5+1 modern villa with renovated kitchen and bathrooms is a superb offer, especially for larger families.





Don't miss out!
We're adding new properties continuously.
We'd like to keep you posted.