Kadikoy and its neighborhoods offer plenty of properties and new real estate developments to choose from. Kadikoy's new developing areas are Fikirtepe, Umraniye, and Atasehir. Popular and sought-after locations are Acibadem, Goztepe, Caddebostan, and Suadiye along Bagdat Street, Erenkoy, Feneryolu, and Moda. Apartments on Bagdat Street have higher prices due to their popular location.
Click here to read more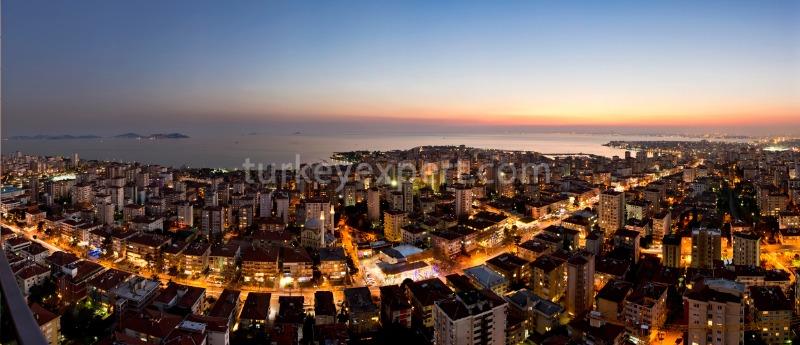 Kadikoy has a lot to offer to its residents and visitors. One of the world's best shopping avenues is in Kadikoy. Bagdat Street offers many fantastic restaurants and cafeterias, big Turkish and foreign brands, and high-quality designer labels from mainstream to high-class. There is a long promenade along the Marmara Sea with sitting areas, walking paths, and bicycle paths.
Famous for its gorgeous coast, Caddebostan is located in the district of Kadikoy on the Asian side of Istanbul. Situated on great transportation networks, commutable by ferry, Marmaray, and Metro, the area is highly developed with advanced infrastructure. With its free yet so clean beaches, cozy cafes, fine restaurants, top-notch schools, universities, health institutions, and industrial, commercial, and cultural zones, Kadikoy is one of the locations of Istanbul to invest.
Kadikoy has plenty of must-visit landmarks, such as Umbrella St., Moda St., and the beautiful Bagdat Street, which is considered the counterpart of Istiklal Street, full of the finest boutiques, restaurants, etc. cozy cafes, chic stores. Kadikoy is also famous for its bazaars and farmer's markets, where you can find so many handcrafted products and groceries. Kadikoy has a lot of mansions, beautiful historic structures dating back to the Ottoman era.
The ferries in Kadikoy run frequently. While you enjoy your Sahlep on the boat and admire the silhouette of the city, they take you to Karakoy on the European side, which is just a few minutes walking from Taksim and Beyoglu. While in Istanbul, it is recommended to visit Kadikoy and take the historical tram between Kadikoy and Moda, which runs for 2,6 km.
Properties for sale in Istanbul Kadikoy