Bahcesehir is one of the most urbanized planned boroughs that is in touch with nature. It is also one of the first satellite cities of Turkey. There are beautiful villas and houses unified with this beautiful landscape. This part of Istanbul is truly a hidden gem.
Click here to read more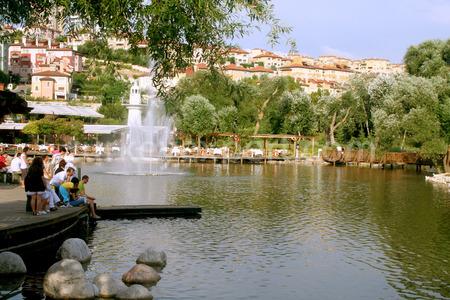 The most beautiful thing in Bahcesehir is the gorgeous Bahcesehir Golet park (a.k.a. Golet park), Istanbul's first and most spacious artificial Pond constructed on 26,000 sqm with recreational areas and children's playgrounds. This heavenly park is so beautiful that once you go there, you would never want to leave. A lot of trees and plants of different varieties surround the Pond. The lake has many little turtles, fish, ducks, and geese, making you feel like you are in heaven.

If you want to do some work-outs, training tools are available on the site. Or, if you're going to jog, you can take your jogging track anytime during the day. If you want to grab a bite, there are also lovely eat-out spots; restaurants, cafes, and lounge (bistro) around Golet Park. Access to the park is effortless.
If you want to have fun with your loved ones, the largest Aqua Club Dolphin is just so close, which features different eating areas and zones on its site. Aqua Club Dolphin has 7 pools and 12 pool slides. It has a great vibe all year long. Akbati Shopping Mall is also very close. If you are up for some work-outs, Koza Woss (incl. 64 tennis courts and center) and The Club (indoor sports complex) close to Akbati Shopping Mall.
Properties for sale in Istanbul Bahcesehir