Marmaris is a popular holiday destination on the south cost of Turkey. It has amazing nature and beaches. Icmeler and Dalyan are two popular ones. Below you can find some of our Marmaris properties. However we do have many more real estate in Marmaris, please don't hesitate to fill-in our inquiry form.
Marmaris real estate for sale
Two-floor apartment with private large garden for sale in Marmaris, Mugla

Two-bedroom apartment with an open plan kitchen for sale in Marmaris

A private home with a beautiful private garden for sale in Marmaris

A centrally located detached house within walking distance to the beach for sale in Marmaris, Turkey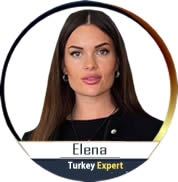 We can call you back in a few minutes!
Please enter your phone number below, including the country code.
A spacious two-bedroom apartment in Marmaris within a short walking distance to the beach for sale.

A spacious villa of three floors and a basement in a good location in Marmaris for sale

This hotel in Marmaris has 70 rooms - 200 beds and a restaurant on the ground floor.

The house is on a site close to the center and between the national park mountains with beautiful views towards the forests

This charming 2-bed apartment is only 190 meters from the sea and promises you a tranquil life in one of Turkey's most beautiful seaside towns.

Don't miss out!
We're adding new properties continuously.
We'd like to keep you posted.
Backed by the forest of the national park mountains, the apartment is the perfect home to enjoy Marmaris

You can enjoy the beautiful views from your private pool while your guests can have their privacy in the separate apartments the villa is offering.

The villa is set in the well-known Icmeler district and offers spacious living in this beautiful setting.