Activities in Kusadasi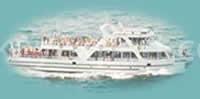 Ferry to Samos
Ferries and hydrofoils depart from ten ports in Turkey. The busiest, most convenient Turkish ports are Bodrum, Marmaris, Kusadasi and Çesme; those in Greece are Rhodes, Kos, Samos and Chios.
You can often get a same-day round-trip ticket for little more than the standard one-way fare, meaning that you can make the voyage over in the morning, see the sights in the port, then return to your original port in the evening. From Kusadasi you will find 2 ferries a day in the season to Samos. The journey takes 1h and is quite comfortable. From June 1st to October 30th you can find a ferry on the below mentioned times:
Kusadasi - Samos everyday at 08h30 & at 17h00
Samos - Kusadasi everyday at 08h30 & at 17h00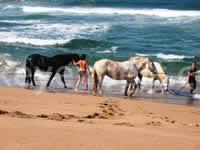 Horse safari in Kusadasi
Horseback riding is an unique, unforgettable adventure. It starts around 9 a.m. and you ride firs along the mountain road towards Ephesus. The route then continues to the beach of Pamucak, along Cowboy Road. Once here you can ride the horses in the sea. On the beach you are able to gallop, swim or just sunbathe and relax.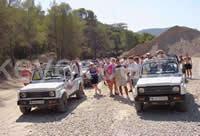 Jeep safari in Kusadasi
The safari uses the country side, mountain roads that give a good chance to the all clients to see an extraordinary landscape, wilderness and experience a great adventure. It also allows you to observe the traditional Turkish life and explore around Kusadasi.
You will drive through thick forest of pines and along side mountain streams and through rural pastoral land in the company of several other jeeps, all of them following the lead jeep. You will make a series stops, great opportunity to take photos of the nature's beauties.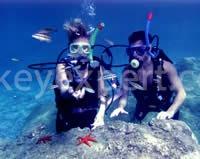 Scuba diving Kusadasi
De Golf van Kusadasi voorziet op zichzelf al in een hele vakantie met z'n 4 grote, natuurlijke baaien en talloze grotten en inhammen. De hele omgeving heeft prachtige natuur onder water en Scuba duikers zullen voornamelijk geinteresseerd zijn om deze wateren te bewonderen. Er zijn natuurlijk ook duiklessen in het kader van Internationale PADI certificaat en CMAS cursussen verkrijgbaar.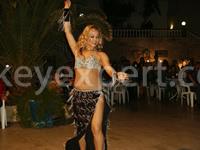 Turkish Night at the Caravanserai, Kusadasi
An original Ottoman Caravanserail built by Okuz Mehmet Pasha in 1618,has been furnished to meet present day needs, whilst preserving all the typical characteristics of a Caravanserail - two floors, two entrances and a spacious courtyard, where the Turkish Nights take place.
As far as nightlife is concerned the mystical atmosphere of the reputed "Turkish Nights" are not to be missed. Exquisite wine, Turkish music and the gorgeous show by the belly dancers.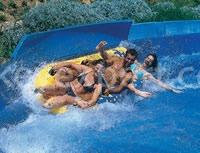 Aquaparks in Kusadasi
Aqua Fantasy, Adaland and the Long Beach Aquapark will offer you a world of unlimited fun, thrills, excitement and lush greenery. All three have a wide range of excellent facilities and water-based rides for a full day of fun, whether you make a splash cool blue waves, take a thrilling plunge down, the awesome and mild water slides to a splash pond below, just leisurely relax and float around the lazy river or just soak up the sun on the cool grassy beaches.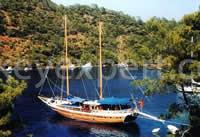 Boat tours in Kusadasi
You'll probably end up on a boat trip while you're here. Daily trips proliferate, a great way to snorkel and swim in the more inaccessible bays. There are also ferry services (in the summer) to Greek islands such as Rhodes and Kos. The ultimate boat trip is, of course, the Mavi Yol or blue road. A week on board a motor boat can be a great experience but it's probably best enjoyed with a group of friends and organised in advance.
Turkish bath in Kusadasi
One of the truly unmissable experiences of a trip to Turkey is a visit to the "hamam". Traditionally, a whole range of paraphernalia is associated with the hamam. The pestamal, a colourful, checked cloth which is wrapped around the waist by men is still in use. Takunyalar, or wooden clogs, often inlaid or carved, have generally been replaced by plastic flip-flops. Soap, shampoo and other toiletries were carried in hand crafted copper or even gold plated tarak kutusu, literally comb boxes, and a copper tas was used to pour water over the bather.
Published on 2019-09-11
Updated on 2019-09-11